Iraleigh Anderson is a plant ecologist who does it all so he can lie on his belly and look at plants at eye level for extended periods. As a photographer in recovery, Iraleigh earned an undergraduate degree in Conservation Biology from the University of Alberta in 2016. As an environmental consultant, Iraleigh specializes in rare plant inventory and terrestrial ecosystem mapping. He spends his spare time growing native plants in his backyard and exploring biodiversity in the West Kootenays and beyond.
---
Jaymie Johnson is an artist with an environmental community-engaged practice. Since graduating with a BFA from Emily Carr University of Art + Design in 2015, she has worked with schools, community groups, and non-profits to create collaborative ephemeral installations through education-based projects focused on ecosystem rehabilitation, relationship building, and skill sharing. She spends her spare time drawing plants everywhere she goes and tending to and experimenting with dye and fibre plants alongside other curious artists.
---
Venessa Langhorn is a GIS analyst and native plant enthusiast. She first completed a Bachelor of Arts in Recreation, Sport and Tourism from the University of Alberta in 2008. She then went on to attend Selkirk College to pursue an Integrated Environmental Planning Diploma (2014) followed by Advanced Diploma in GIS (2015). When not working at the computer, Venessa spends as much time as possible with her family exploring the land and water on bikes or with paddles and learning about plants along the way.
---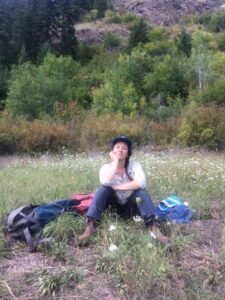 Monica Juhas is a plant person with no formal degree, a smattering of classroom education, several incredible mentors, lots of field experience, and endless passion. She is a herbalist and runs a small softscape garden outfit helping clients create eco-logical gardens that enrich both the human and more-than-human experience. Her happy place is in the dirt or out picking berries and herbs. She occasionally leads workshops and creates school activities to engage adults and kids with the outdoors through simple herbalism, cookery, gardening and (wild)crafting. Her motive is to remind us that "We don't visit nature, we are nature." Monica is thrilled to be part of the KNPS! She hopes to support its endeavors and let the exquisite native plants permeate our lives.
---
Zoe Oppenheim is a first generation settler of Jewish German descent. She is a teacher and expressive arts therapist who has spent her career supporting experiential and place-based learning. A newcomer to the traditional territory of the Sinixt Peoples, she has endeavoured to know the native plants and pollinators through transforming her lawn into a pollinator meadow. Her climate anxiety is soothed by ecological restoration initiatives and for this she is ever grateful and humbled to be a part of KNPS. She has two small children, a doodle, and a hubby.
---
Kayla Tillapaugh is a mother and an Environmental Technologist residing in the Central Kootenays on the traditional territories of the Sinixt, Ktunaxa, Secwepemc and Sylix First Nations. She fostered a young passion for conservation and stewardship in the rolling mountains and river valleys of the North Okanagan/ Shuswap within Syilx and Secwepemc traditional lands. Her fascination and appreciation for native plants sprouted from her love of wild foraging and nature photography. Kayla's professional experience includes rural research and innovation, environmental monitoring, habitat restoration, community building, and working with nonprofits and First Nations. She is passionate about the rekindling of human-nature relationships through a deep reimagination of symbiotic coexistence among kin, across space, throughout time.
---
Camille Leblanc grew up along the Sturgeon River in Alberta where she explored the surrounding wetlands and learned the names of the birds and the plants. After travelling in British Columbia's Southern Interior, working on organic farms, her draw to live in wild spaces next to lakes and mountains brought her to Nelson, BC in 2013.
Camille graduated from Selkirk College with an Associates Degree in Peace and Justice Studies and a diploma in Integrated Environmental Planning in 2018. Camille is grounded in both the social and environmental sciences, which reflects her passion for community capacity building and environmental advocacy. Camille currently works in water stewardship, as a Program Coordinator for Living Lakes Canada and Executive Director for Friends of Kootenay Lake Stewardship Society. She is leading projects on shoreline restoration, wildlife monitoring, and water quality monitoring with both of these non-profit organizations.
As the current Treasurer for Kootenay Native Plant Society (KNPS), Camille hopes to bring her passion for non-profit financials as well as native plants and pollinators to develop processes that help KNPS do good work for West Kootenay ecosystems