Making Meadows on Kootenay Lake
We are in our second year of making meadows ("meadowscaping") as part of out Wildflowers for Pollinators (W4P) project.  All the meadows occur within the electoral districts supported by the Kootenay Lake Local Conservation Fund.
2019 Project Meadows
Here are the six meadows in the process of being solarized (see below for more information on meadow preparation).
Karen's Meadow, Johnsons Landing
Harvey's Meadow, Johnsons Landing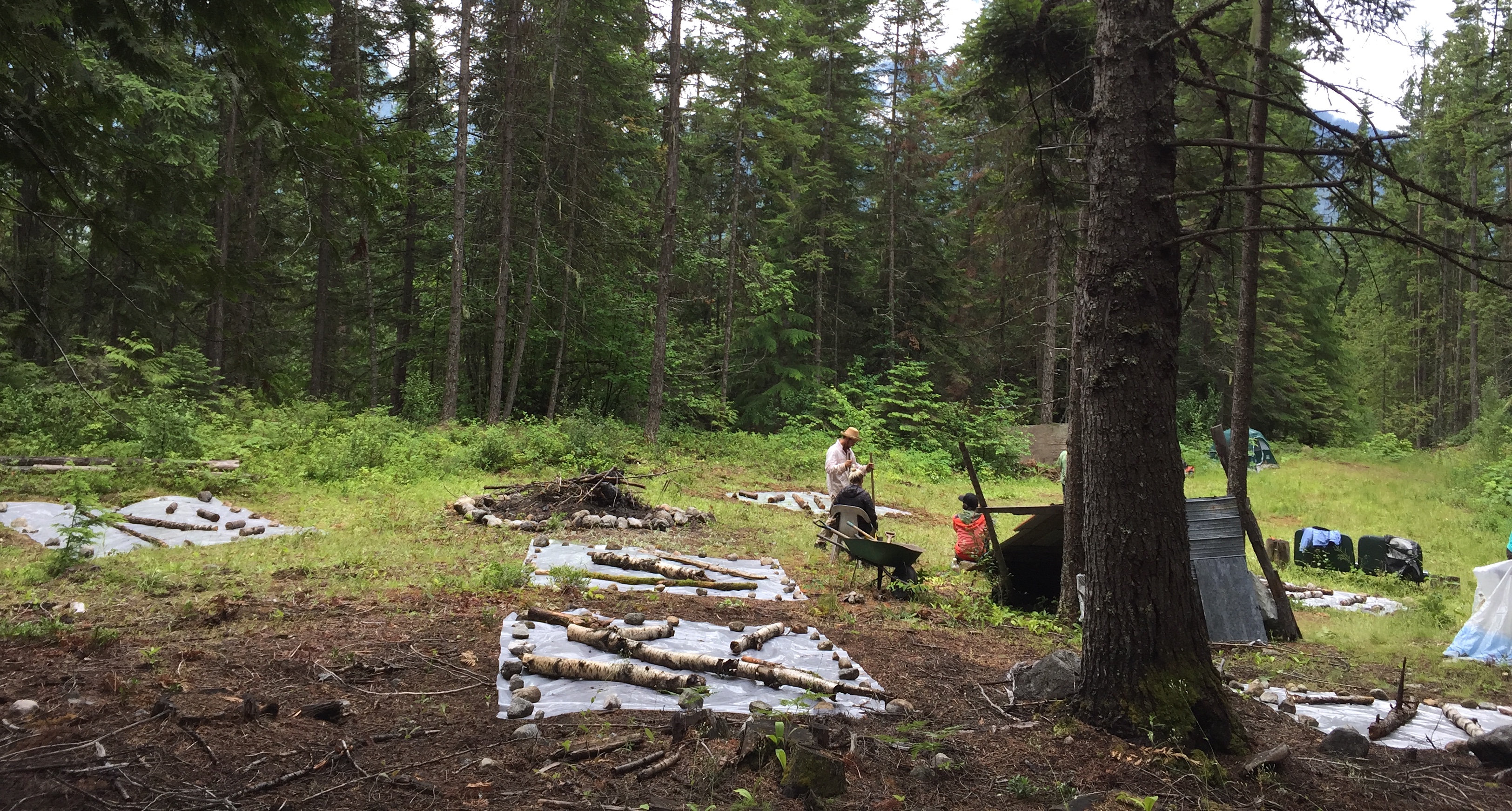 Dianne's Upper Meadow (in six bits), Balfour
Ken's Meadow, Crawford Bay
Leah's Meadow, Shutty Bench
The single most effective action you can take to conserve pollinators is to plant native wildflower habitat.
– Xerces Society for Invertebrate Conservation
Why plant a meadow?
Beautiful and biodiverse, meadows are essential habitat for bees, birds, and butterflies.  Meadows inspire us to better understand the harmony and melody that weaves all life together. 
Why native wildflowers?
Native plants provide the foundation for healthy ecological communities.  A meadowscape of native wildflowers contributes to the integrity of our common ecosystem and builds natural resilience for changes to come.
Does size matter?
The quick answer is no.  Even small spaces can contain many wildflowers.  Little patches, when taken together, can form a large network of connected habitat!  These habipatches can take many forms.  Consider creating a:
Micro-meadow




Monarch waystation

 

Lawn to meadow conversion

 

Flowerstrips

in farms

 

Roadside pollinator enhancement

 

Restoration and Rewilding

of parks, fields

,

and natural areas
Meadow Making for Pollinators
To help you conceptualize how meadow creation can occur we offer the following five-step guide, adapted from the Xerces Society manual "Establishing Pollinator Meadows from Seed." The full manual can be downloaded at:  http://www.xerces.org/wp-content/uploads/2013/12/EstablishingPollinatorMeadows.pdf 
Making a wildflower meadow for pollinators can be accomplished by anyone at any scale.  The best approach is to take the time to do it right.  Meadowscaping is an antidote to this frenetic world we all live in.  Slow down, select the space, assemble the plants, put them in well-prepared soil when nature can best take care of them.  Don't be hasty.
The process behind creating a wildflower-rich meadow consists of five basic steps: 
(1) Site selection 
A sunny open site is ideal for a meadow, although some shadier spots can work too!  Assess your site for soil conditions and existing natural habitat features and plants.  Determine which plants to keep, which ones to let go of, and which ones need to be moved or managed.

(2) Site preparation 
The importance of site preparation cannot be overemphasized. A full growing season learning from and preparing the site will result in greater success.  We recommend either solarizing or sheet mulching through spring and summer to suppress existing unwanted vegetation.  Sod removal can also be considered if you are converting a lawn or pasture.  Seedbed preparation consists of preparing a smooth, lightly packed surface.  Ploughing, rototilling, or digging can stimulate weed growth and damage soil structure so is not generally recommended.

Solarization
This is the process of baking the soil and the associated plants under clear plastic.  The clear poly allows for solar radiation to penetrate to the soil creating a high humidity, high heat, and low oxygen greenhouse.  If the thick (6 mil) poly is left in place for the summer, then conditions can result in the killing of plants and the seeds in the upper soil layer as well.  It is best to make the poly sheet as taut and air tight as possible.  You can lay it down with logs, boards, or rocks on top to hold it in place.  I recommend trenching around the perimeter for two main reasons: (1) the edges of the poly can be placed into the trench with the sod (inverted, or grass side down) replaced on top in the trench to hold it securely and efficiently, and (2) the trench is a barrier that will slow the regrowth and spread of grasses into and from the covered area.  The dead plants will become organic matter that will become incorporated into the soil.
Solarization is a good way to go because it is cheap and effective.  Once the sheet poly has worked on one spot, it can be moved to a new location and used again (and again!).  It doesn't greatly change the conditions of soil, and the seeds and plants you choose to be planted into your solarized area should reflect the original soil conditions.  For example, if the site is dry and in full sun, choose native plants that grow best in those conditions.  This way the plants have the best chance for success in their new home!
Solarized future meadow with edges of thick clear plastic secured in shallow perimeter trenches, under the inverted dug out sod.  Logs are placed on top to provide weight to hold plastic down in case of strong winds.
Sheet Mulching
This approach is good for a number of reasons.  It is an excellent option for smaller areas and in areas where you may want to change the soil conditions (i.e. build soils).  This may be a good option if you think using a sheet of plastic is unsightly or inappropriate for a particular location.  And, this is a good choice if you want to both kill the lawn underneath and plant into the top soil layers with shallow rooted species such as wildflowers.  Sheet mulching can give you a meadow sooner and help get plants established that can seed directly into the site in the Fall, if the plants flower in the first year (e.g., annual species).
Sheet mulching is just like it sounds, a way of creating a series of different layers with a variety of materials on top of the soil or lawn.  Start with a layer or two of cardboard (tape removed if possible).  Make sure there are no gaps and plenty of cardboard overlap.  The cardboard will break down over time (a good thing!) and will provide a good barrier between the lawn below and the upper layers for a few months.  Next, layer on organic materials such as shredded paper, newspaper, leaves, or other fine organics.  Then add a good compost and clean topsoil.  Add mulch of wood chips or other woody material on top.  Water in each layer well.  Some plants can be added to the top layers but do not penetrate the cardboard layer.  Also, please keep in mind that native plant seeds need to be in contact with mineral soil to germinate and often require cool temperatures.  Planting of seeds is recommended in the Fall.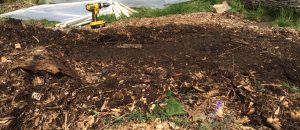 Sheet mulched area showing killed lawn, partially decayed cardboard, and mixed wood chips.  In this case, sheet mulching was in place for nine months.
(3) Plant selection 
Floral diversity – choose a variety of flower shapes and colours, and ensure there are blooming plants throughout the season. 
Seeds – collect your own or purchase only 'local ecotype' seeds and plants.  See KNPS website for ethical collection guidelines and for seed availability. 
Plants – grow your own for out–planting or purchase starters from a local grower who uses only local ecotypic seeds.   
PLEASE – Do not dig up plants from the wild.  They rarely survive the transplant, and they are needed where they are!

(4) Planting 
Early fall is the best time to plant your meadow.  Many native seeds require a cold moist period for germination.  This happens naturally over the winter.  Fall is an excellent time to transplant seedlings as well.  You can supplement with annuals the following spring, and in-fill with new species as your meadow progresses.

(5) Ongoing management 
Water in the spring if there is inadequate rainfall.  Once established, your meadow should not need supplemental irrigation.  Control weeds for the first year or two.  This can be done by hand or by mowing.  Many perennial natives are slow-growing and small and may take time to establish.  Be patient!  Long-term management may involve mowing, burning, shrub and tree removal, mulching, and reseeding. 
Please contact us for more information on making meadows as part of Wildflowers for Pollinators project!