Blooming Now
An occasional blog featuring some of our favourite flowers.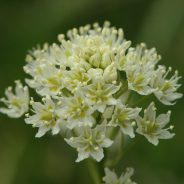 Growing in the same meadow that was once a field of blue camas, the creamy white flowers of the very toxic death camas show themselves after the blue has disappeared. They often grow together this way, and the bulbs are virtually indistinguishable. A good reason to be very careful. The toxin is even poisonous to bees and other insects. It is usually pollinated by specialist bees that have adapted to its toxic...
read more
Naked broomrape (Orobanche uniflora) – what a terrible name for a delightful spring flower.  Notice the single flowers (uniflora) on yellow leafless (naked) stems.  Naked broomrape has no need for leaves as it gets its nutrition from other plants and no longer photosynthesizes for itself. This cluster of plants was growing in a wet meadow in Pass Creek, and can be seen on shallow moist soils in forest openings throughout the spring.  The plants will always grow near their host plants, in this case, likely the buttercup-leaved suksdorfia, also seen in the phot0. The Orobanchaceae (broomrape) family is a large plant family that is parasitic on the roots of other plants. Read more about naked broomrape at eflora BC. http://linnet.geog.ubc.ca/Atlas/Atlas.aspx?sciname=Orobanche uniflora ...
read more
Violets are truly wonders of spring. In BC, there are 20 native species with flowers ranging in colour from white to yellow to lavender to, well, violet. Most flower early in spring and their small stature lends us the phrase "shrinking violet". Ground nesting spring bees feast on the pollen and nectar, and the flowers and young leaves of most species are edible. Fun Facts about Violets Greater Fritillary butterflies caterpillars feed exclusively on violets. Violets spread their seed by catapulting them out of the seed pod – known as ballistic seed dispersal. The seeds then enlist ants to carry them even further away and bury them in the...
read more
Millions of flowers on the slopes of Gilpin Grasslands.
read more
The first flower on a camas plant in the Selkirk College propagation beds. It has been a wet cool spring, and camas are just beginning to flower, two weeks later than usual. The plants have been loving the weather, and growing larger leaves and setting many buds. They should be in full flower for the fifth annual Camas Discovery Day in Millennium Park, Castlegar on May 14, 2017. Read about it here: Camas Discovery...
read more
Tastes nothing like chocolate! Lomatium macrocarpum is our largest lomatium, with browny purple blooms on large umbels, seen here in flower near South Slocan.
read more
Early spring flowers, such as the glacier lily, are an important nectar source for our native bees, such as bumblebees and mining bees.
read more
Western Spring Beauty (Claytonia lanceolata) delights us early in spring on moist rocky outcrops. These small and lovely flowers graced a hillside outside of Salmo, blooming just in time for Earth Day.
read more